East Devon's Jaguar Landrover speacialists
Beacon Garage steps into the leaping cat world – becoming an independent Jaguar car and crossover specialist.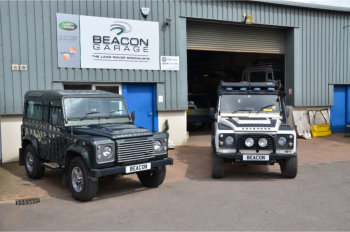 Beacon Garage is located in the expanding town of Ottery St Mary on the Finnimore Trading Estate. They are no more than a 25 minute drive from any part of East Devon and less than 15 minutes form the periphery of Exeter, Exmouth, Honiton & Sidmouth. Ottery with its supermarket and range of unique shops and meeting places is well worth an explore while your vehicle is being attended to. Alternatively, the garage has a fleet of loan cars to suit all needs which subject to prior booking allow a simple drop off and collection to suit all circumstances.
Beacon Garage have been providing the care every Landrover or Range Rover deserves for over 7 years and with over 50yrs of combined Landrover product knowledge the team are the most experienced in East Devon. The service provided are second to no other and they strive to continually adapt and improve to the ever changing market place and customer expectation. As the brand is evolving and the national independent Landrover repairers trend is changing Beacon Garage are now expanding their horizons to promote their services to Jaguar owners. This is due in part by the fact that under the exterior skin and interior trim many of the vehicles share the same systems and technology.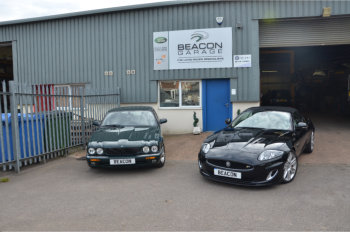 Pete Broom, the business director has been in the business since completing his apprentice at the local franchised Landover dealer in Exeter and has maintained close links ever since to allow the businesses product knowledge to be kept up to date. He has strived to keep the business at the fore front of local independent repairers and with this he has now invested heavily in new diagnostic equipment allowing the workshop to be able to also maintain Jaguar cars. This is a bold new route to keep Beacon Garage in line with the franchised dealers who are now becoming dual franchise workshops in line with the manufacturers decision to promote themselves jointly as the brand Jaguar Landrover.
The workshop is equipped with three levels of equipment now allowing general code reading for any vehicle, a dedicated manufacturer equivalent system covering many main stream manufacturers and now the recently acquired and subscribed to Jaguar Landrover SDD system as used in the franchise workshops worldwide. The latter is a fully online supported by the manufacture allowing the system hourly updates and keeping your vehicle updated with the very latest software updates which can be downloaded to the vehicle as part of routine servicing or at any time if a fault becomes apparent and the car visits the workshop. Also as a supplement to this the workshop can offer engine management reprogramming or "remapping" as most customer will be more familiar with. This allows Beacon Garage to upgrade the original manufacturers software to eliminate fuel consumption or emissions faults along also with the option of unlocking more power and torque from the engine which is often a benefit if the vehicle performs a lot of towing tasks or if the owner simply want more power at his disposal. With these systems coupled with the usual tyre, exhaust and general facilities you would expect Beacon Garage can finally offer a one stop shop for all your Jaguar and Landrover maintenance & repair needs.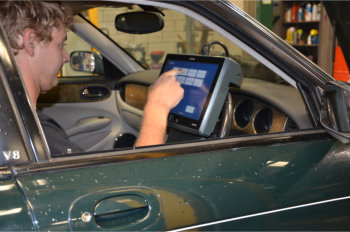 With investment a key factor to maintaining business growth Beacon Garage now also provides transmission and power steering fluid flushes and exchange services. With modern automatic transmissions and power steering systems being designed as sealed for life components car manufacturers are now admitting that these systems should have been serviced earlier in their lives and subsequently are experiencing premature failures due to lack of oil or fluid changes. Now this service can be completed as a standalone operation or as part of routine servicing or maintenance. Just give the team a ring for more information on the benefits of having this procedure performed.
Another new service at Beacon Garage is that they now do their own Air conditioning top ups, maintenance and repairs. This provides more convenience for customers to allow all aspects of their car maintenance to be done under one roof.
Due to the Defender becoming an iconic vehicle worldwide and their residual values increasing dramatically with the vehicle production ceasing Beacon Garage have seen a rise in restoration jobs to keep older vehicles running. To allow economic processing of these vehicles they have now opened a satellite workshop to cater for the jobs which once clogged up the busy Ottery St Mary premises. Beacon Garage can now offer a cheaper alternative if the job has less urgency and possibly needs more practical processes performed. Please ring them and ask for further details.
Although Beacon Garage do not perform their own MOT testing they are more than happy to arrange this on your behalf and this also gives the customer peace of mind in that the test has been performed by an independent third party providing an honest and impartial assessment of the cars condition and repairs that might be needed in line with VOSA requirements.
Lastly a mention must be made that Beacon Garage has also benefited from customers who have been so pleased with the service they have received on their Landrover vehicles that they have returned with their family run arounds, station cars and work vans to make the most of the services the garage provides. Beacon Garage are truly your one stop shop for everything motoring related.
So if you own a Jaguar, Range Rover, Landrover or any other car, van or crossover then you'd be missing out if you don't visit Beacon Garage.